Study table Manufacturers in Chandigarh – Do you want a workspace at your home? Here, we at Alfa furniture would like to bring you the best study table for students. The furniture on which you can study and work comfortably. Because our company serves top-quality furniture in all. That is why are choosing to be the best study table manufacturers in Chandigarh. Scroll down.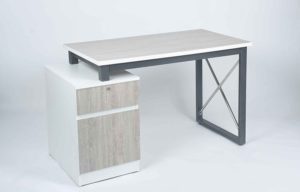 Further, Alfa furniture brings you the collection of the study table design. Made from different types of material, shapes, sizes, and styles that suit your requirements. But materials like wooden study tables featured with a nut-brown finish to make a perfect western and contemporary décor. So, if you are looking for the top study table manufacturers in Chandigarh then we stand for you.
Importance of study tables
Improper posture with the neck while studying can lead to serious neck injuries and spines issues in the future. So, in this condition, writing tablets with correct height are very helpful. And the modern study tables designs with better care, with better comfort for the user. So that the working professional and students can complete their work in a better way and fully relaxed. You can easily plane the laptops or books while writing on them comfortably.
Further, the writing tables need to be old and traditional. You need to buy a writing desk that features great and will serve you for long. Well, a combination of the modern study table styles and functions will make your studying and working. Apart from providing a desirable place to work, a modern style table also offers handy storage space. So, that one can store your stationery items in the drawers, books, files on the shelves as well.
Types Of Study Table
To those who love desks while studying or working, here, Alfa Furniture would like to pick you the store full of study tables. There will be a huge range of solid wood desks for homes with higher comfort and designs. The gallery share by us contains every conceivable stripe for all sorts of requirements. With a detailed guide to acts as a primer for those looking to purchase a new desk for the home or office.
Basically, the desks are classified in a wider range and are spread through categories. Like:
Writing desk
Computer desk
Executive desk
Credenza desk
Corner desk
Secretary desk
Roll-top desk
Alfa Furniture | The Leading Study Table Manufacturers in Chandigarh
One will come to shop more for house furniture on Alfa Furniture. Our wide range of residential furniture is very creative, comfortable, durable, and reliable as well. Also, the furniture products we serve will be at reasonable rates. In which designs like type modern, mid-century, western, contemporary, industrial, traditional, or transitional. In addition, you can choose from different categories like sofa cum beds, futons, patio loungers, quilts and comforters, activity tables, pots and planters, step ladders, dinner sets, and a lot more.
Here, check out the highlighted key points below:
Professional team
Wide range of furniture designs
Industry-leading prices
Top-quality furniture materials
Strong network
24*7 services
Affordable furniture rates
Why choose us?
Alfa Furniture brings you fancy materials like wooden tables that have a huge demand everywhere. You can choose from different sizes and pick one option that will fit right into your home space. Further, you will find an exclusive range of modern study tables for the students that are apt for kid's room décor. Also, these tablets are featured with a rustic finish. You can even select a wall-mounted writing table for your kids.
Further, the tables provided will be served in different styles to suit your class. So, if you need hefty storage, then there is a study table with bookshelf designs. There wither be the lower part of the table serves as a shelf or than the main table with bookshelves ideas. With this, the tables that have separate rack can make your room looks neat and pretty. Therefore, we would like to serve you with the cheap study table and chair in Chandigarh.
Contact us
Name – Alfa Furniture
Address – Plot No-38, Industrial Area, Phase 1, Panchkula, Haryana-134102
Phone number – +91-9888405627