Office Sofa Manufacturers In Panchkula – There are a number of office sofa manufacturers in Panchkula but finding the one as per your requirement will not be an easy task. Not to worry, because Alfa Furniture is here for giving you the best office sofa deals in Panchkula. You can choose the product of your choice and as per your pockets. We are having the availability of every kind of office furniture in best price ranges. We will let you know further how Alfa Furniture is the best office sofa manufacturer and dealer in Panchkula.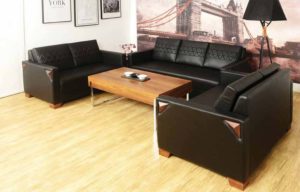 Furniture plays an important role in any place whether it's your home or your office. Creating a healthy environment is what you can see after installing a good quality furniture for your place. At the workplace, this can be more impactful for the employees and for the whole office staff. Therefore, to have the most desirable office environment and output, a better furniture can be of greater use.
Office sofa is also becoming a trendy furniture to add more value to the office. It exerts a great impact on the employees and visitors mind too. There are many office sofa manufacturers and suppliers shops in Panchkula. But for having the best, you can contact us either via mail on aflafurniture377@yahoo.co.in  or you can talk to our customer care representative on 0172-5066363, +91-9988305627. 
Best Manufacturing Practices at Alfa Furniture
Your search for the best quality office sofa manufacturer in Panchkula will surely end up here with Alfa Furniture. Because our qualities are so convincible that you will be happy to be our customer. We excel at every step of the overall furniture business and if you want to know about the qualities regarding manufacturing unit of ours, then scroll down further.
Legally registered furniture company.
Uses the best kind of raw material for the final furniture product.
Skilled set of the workforce to innovate the customized and quality products.
Higher durability factor addition during the manufacturing process.
Safer and advanced infrastructure use in the company.
Quality control steps.
Machinery in its best condition.
Consequently, you will be getting the best quality office furniture in Panchkula from Alfa Furniture. There are many more qualities which you will be experiencing over time.
Higher Demand for Quality Office Sofa Furniture in Panchkula
Demand is like a driver for the sale in the market but for only those products which possess quality. You can never see a demand for a low-quality product. People don't hesitate to pay a little more for standard product. There are a number of office furniture shops in Panchkula but you are not sure about the quality. Therefore, a proper research is what you need to do to invest your money in the office furniture purchase. Because it is a long-term investment.
Consequently to the increase in the number of entrepreneurs and the company buildings, the demand for office furniture in Panchkula region is going high. So that you are looking for the information regarding office sofa, these offices will need the office sofa simultaneously. Because every office furniture buyer knows that office sofa is also a necessary and value-adding furniture in any company.
If you are adding a sofa to your office decor, it will attract the attention of the visitors and will also create a better brand image in the market. And the company holders have understood all these things well and are creating high demand for office sofa in Panchkula.
Choose Alfa Furniture for
Best Office Sofa Furniture in Panchkula
Selecting the one out of a number of alternatives is a more confusing task. But the confusion level goes down when there are very fewer market players who are selling the quality products. Same is the case with Alfa Furniture. We are the top office furniture manufacturer company in Panchkula. That's why handling a huge number of happy customers. There are a number of specialties behind ranking in the list of top office sofa manufacturer and dealers in Panchkula and India as well. Kindly go through these specialties one by one.
Quality assurance to the customer.
Customized products.
Impressive, comfortable, and innovative furniture products.
Office sofa at low and reasonable prices.
Higher brand image and more demand consequently.
Affordable furniture products.
Excellent delivery and customer services.
Safer packaging.
On-time delivery feature.
In addition, you can get the widest range of products and designs in furniture. Therefore, the choices are more for you and can invest your money in the best future results. So come shop with us and enjoy the best deals with us here.
Contact Details
Name – Alfa Furniture (Office Sofa in Panchkula)
Address – Plot No-717, Industrial Area Phase 2, Chandigarh.
Phone number – 9888405627.