Wooden Desks Manufacturers in Punjab – Whether you are finding trouble in purchasing wooden desks for your residential palace or your workplace. These are the choices we have to make that greatly impact the look of your workplace or your home. Your search for finding Wooden Desk Manufacturers in Punjab has come to end with Alfa furniture.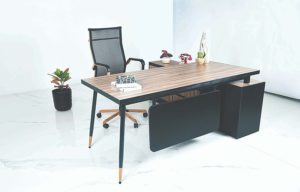 Alfa furniture is such a trusted name among wooden desk manufacturers in Punjab. Alfa furniture has pulled the customers and fulfilled their demand for customized wooden desks in such a wide variety. They manufacture wooden desks to meet the needs of customers considering factors like their budget, level of luxury. The sheer will of making wooden desks with precision and pure talent of craftsmanship has earned a good name in best Wooden Desk Manufacturers in Punjab.
The wooden desks are essential commodities of a place where people work, feed themselves, or even to put things on them. Wooden desks form such a positive image in minds of those who behold the décor of your place. The desks are carved out from top quality wood that was carefully procured from trusted wood suppliers. You can rest assured of the quality of your wooden desk when purchasing from Alfa furniture. To know more of various kinds and models of the wooden desks, feel free to call at 9888405627.
Wooden Desks Requirement
It is necessary to find a suitable wooden desk that fulfills the purpose. Let it be an office setting, you need to build a workstation for your employees, the wooden desks must be made from toughened material that also has appeal in the eyes of the user.  A proper and well suited wooden desk will be easily suited. Every wooden desk is made to give comfort, reduce fatigue as much as possible. We, Alfa furniture are meeting the rising demand of supplying customers with high quality, rugged, and good appealing wooden desks. With so many options to choose from, you will never fall short on alternatives to buy the best wooden desks as per requirements.
Every day homes, office buildings, residential complexes, restaurants are being constructed. After getting keys to your workplace, houses, flats, what makes the house worth living in? Workplace to look up to every morning? The furniture of these places infuses a different aura into them. Wooden decks have a glamour of their own when you need to match up with the rest of your home/ workplace décor. Alfa furniture has solutions to all the requirements of customers to own their personalized wooden desks or choose from the palette of many options.
Make your purchase of wooden desks to be a wise decision
Installing wooden desks to match the décor, meet the functionality of the workplace for optimized performance. At the same time, giving a feel of leisure while eating or chopping vegetables on the wooden tables by Alfa furniture will be your wise decision along with building a dream home of your own and/ or setting up an efficient office for a good workforce. The wooden desks from Alfa furniture will never feel out of place once they get installed as up your chosen spacing or corner of your office and or your home.
The checkpoints that make Alfa furniture such a big shot in wooden desk manufacturer
Things to be evaluated and tested while buying wooden desks are-
Durability and quality of the wooden desks
Finishing of the desks
Comfort these desks provide.
Unique and intricate designs
Wooden desks are being sold at affordable prices or not
Only those wooden desks are suggested for buying options that will match and fit in the spacing available.
We, at Alfa furniture aims and ensure the wooden desks will be carved, finished, and then moved into your place of work or leisure by meeting all the set expectations of its customers. We aim to offer you a modern, sophisticated, and fully functional product that will keep you mind light and your pocket filled. The use of high-quality timber for wooden desks manufacture really sets us apart from the rest of the wooden desks suppliers. All workforce of ours is talented in craftsmanship to build a wooden desk with elegance and skills.
Why choose Alfa furniture to be your next wooden desk manufacturer?
Punjab is a state of rich heritage and culture. Many homes and businesses take pride to portray these values through the aesthetics of the workplace or their residence. All our wooden desks will reflect your class and status to the best. We are always ready to serve you with our artistic range of wooden desks. We also offer a wide range of furniture from sofas, settees, chairs, and tables.
Contact Here-
Name – Alfa Furniture
Address – RUHANI INDUSTRIES Pvt. Ltd., Plot No-38, Industrial Area, Phase 1, Panchkula, Haryana-134102
Phone number – 9988305627