Executive Chair Dealers In Panchkula –  Best Executive Chair Dealers In Panchkula is undoubtedly Alfa Furniture. We provide the best in quality and design. Our unique, attractive designs and best quality make us stand above in the market. Alfa furniture deals in all sort of office furniture. If you talk about top executive chair dealers in Panchkula, then Alfa Furniture is the one that stands above.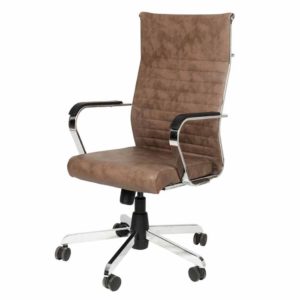 Alfa furniture provides every possible reason that why we stand at the top.  The designs we provide are the most attractive and beautiful, which could turn the face of your office amazing look. And the quality we provide is at its best. Our team takes complete care of the quality and comfort level of the chair. These make us the best Executive Chair Dealer In Panchkula, India.
If you are searching for the best executive chairs for your company then switch to Alfa Furniture. We satisfy the desired furniture demand of our customer. Our existing customers are satisfied with the furniture we provided. As our team works on all aspect in order to make a perfectly comfortable and attractive chair. So if you want to purchase from Alfa Furniture, you can mail us on alfafurniture377@yahoo.co.in or call us at 0172-5066363, +91-9988305627.
How Can Better Quality Executive Chair Contribute to Company's Growth?
Furniture of the office reflects the image of the company. A best quality's executive chair can provide a comfortable sitting to the employee. Where they can be more focused and comfortable in the working.  Every employee does need a healthy and happy office environment and if the chairs are not comfortable how could the employees can work comfortably.  By the use of best chairs, you can create the big brand image in the market as well.
A better quality executive chair can provide a comfort zone for the employee.
Comfortable office chair furniture can create a healthy and happy office environment.
Visitor's will get impressed with the decor of the company.
This will make employees work more appropriately.
More comfortability will give profitable results from the employee's side.
Our manufacturing team is efficient to work on all the aspect while making a chair. Our team works to improvise continuously. The designers work to make more innovative and attractive designs.  As our moral is to fulfill our customer's demand and desire for the best furniture. The priority is to make the customer amaze with our brand new designs and comfortability. Some of the quality manufacturing points are below.
The raw material our team use is of the best quality.
We have expert quality assurance team.
Labour is skilled.
Best designers.
Reasonable prices.
We follow all legal standards.
Choose Alfa Furniture For Best Quality Executive Chair In Panchkula
There are many other manufacturers but Alfa Furniture provides the best quality ever. Alfa furniture match ups the expectations of clients. As our motive is to give priority to customers desire. And our quality and designs are making us stand at the top in the market.  We continuously work to give more best in our furniture. You can get all kind of quality chairs and other furniture at Alfa Furniture. You will get best quality chairs and other furniture in Panchkula only at Alfa Furniture. Some of our quality features are below.
Most trusted and high demand brand.
Reasonable price in the market.
Most qualitative furniture products.
Lifelong durability.
Customer support available all the time.
High comfort level.
Designs and looks of furniture are commendable.
Therefore, you can purchase the best executive chairs from Alfa Furniture. We serve the best quality, designs and comfortable furniture. Your search for executive or desk chairs manufacturers in Panchkula can end up with Alfa Furniture. Give us chance to fulfill your desires of attractive furniture.
Contact Details
Name-  Alfa Furniture (Best Executive Chairs In Panchkula)
Address-   Plot no. 717, Industrial Area, Phase 2, Chandigarh.
Contact number-  9888405627.