Office Chairs – Want the best office chairs for your employees? If your answer is yes, here we have a perfect solution for you. Now you don't have to search further for best office chairs. Alfa furniture is the best furniture mart where you will find different variety of office chair variety. We can provide you the best office chairs and other offices furniture. For more detailed information feel free to contact us anytime by dialing 9888405627 or you can also send us the query through email alfafurniture377@yahoo.co.in.
There are millions of people who spend their average of six to ten hours a day by sitting on an office chair, and when there are so many files to be filled and work has to be done, most spare little thought to the detrimental effect our office chairs can have on our bodies. It is very important to have good and comfy office chairs in the office. So, if you are the one who is looking for the office chair, we are the best option that you can choose.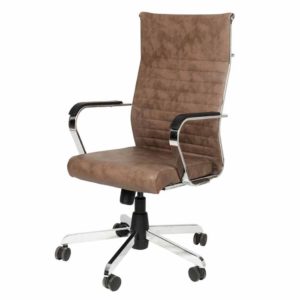 How To Choose
Best Office Chair in India?
As we all know, many of us are spending more and more time at our office desks, that's why the importance of good office chair should not be underestimated. Sitting in the office chair which has not been adjustable to suit the individual can also effect on our bodies, mood, and wellbeing. And that is the reason, the number of working days lost to back pain, neck strain, headaches and stress are on the increase. So if you are a boss, it is your duty to do everything that you can to ensure the wellbeing of office staff. Here are some of the points which you should keep in your mind while choosing the right office chair.
Seat Height And Width:-  The height of your office chair should be fully adjustable and positioned so that your feet rest flat on the ground. The width of the seat cushion allows you to sit with your back resting against the backrest.
Lumbar Support:- Your back seat should be designed to curve through the length of your spine, so a good ergonomic chair will have an adjustable back which shapes to the curves of your lower back perfectly.
Seat Cushion:- The soft, cushioned seat pads are recommended for all the office chairs rather than hard textured surfaces. Sitting on hard chairs and working for long hours can be uncomfortable for your employees. Just to ensure comfort for the employee, a well-cushioned chair is important.
Armrests:- The armrests of your chair should be adjustable allowing you to sit comfortably with the shoulders in a relaxed position. Your elbows should be able to rest on the armrest.
Benefits Of Good
Office Chairs in India
There are many benefits of having good office chairs in the office. Working by sitting on hard and uncomfortable chairs can be difficult for anyone. Here are some of the benefits mentioned below of having good office chairs.
More Postures:- Traditional chairs may be one of the reasons why people tend to have incorrect postures while sitting at their desks. But today, the chair takes these problems into consideration. It has all the necessary features including adjustable heights, armrests, backrests, etc. This improves your postures.
Neck Problem:- Without a neck support, you may suffer the neck or shoulder problem. This problem can even lead to complications like cervical spondylosis. But ergonomic chairs support your head and neck even when you want to stretch your body.
Makes Working Easy:- All the features of a good office chair are adjustable to accommodate different activities you may perform at your work desk. A good ergonomic chair makes your working easy.
So if you are looking for the best office chair contact us anytime as we have a different variety of office chairs available for you. You can choose the best one for your employees. We provide office chairs in Jaipur, Vijayawada, siliguri, panipat, lucknow, gorakhpur and Chandigarh Tricity. For detailed information, feel free to contact us anytime.
Contact Details
Name – Alfa Furniture (Office Chair Manufacturer)
Address – Plot No-717, Industrial Area Phase 2, Chandigarh.
Phone number – 9888405627