Office Sofa Business Franchise in Punjab – Here is Alfa Furniture with one more office franchise option for you i.e., an office sofa business franchise in Punjab. Yes, you may be happy to know that we are expanding our business and now you will be able to get and sell our best quality office furniture in Punjab also. Be ready to experience the high quality of office furniture in Punjab. Therefore, those who want to have the office sofa distributorship in Punjab can contact us. You can contact either through a mail alfafurniture377@yahoo.co.in or can call on +91-9988305627.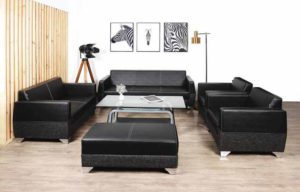 The one who is looking for best quality office sofas for their office can deal with Alfa Furniture. Because we are manufacturing our office sofa products by keeping customer needs under consideration. In addition to this facility, to assist the one who has a great interest in office furniture business can now avail the office sofa franchise opportunities in Punjab.
Why are we in highest demand in India? What makes us the best office sofa manufacturing company in India? There is a single answer to all those questions i.e., quality. Quality alone can grow your business but if you are lacking at this perspective, sorry you are in a loss zone. Undoubtedly, people will not hesitate to pay for a quality product. So why don't prioritize the quality in your product or services? Therefore, to sell the best office sofa furniture and earn well, take a wise decision to choose the best office sofa franchise company in Punjab.
Office Sofa Distributorship Benefits in Punjab
Furniture manufacturing companies are innovating new and attractive furniture for their customers. Even in the furniture industry, you will see furniture for different purposes. Office furniture is one of the profitable business. Especially when we talk about office furniture in Pubjab. Office sofa furniture has become a need for all the offices. In addition, if you are intelligent enough for taking an office sofa franchise in Punjab, here is your benefits list for this business.
In Punjab, government and different entrepreneurs are setting up new offices for starting up new business. Because for starting a firm, you need different physical assets. And office building is one of those physical assets or you can call it as a physical evidence for people. And for its smooth running, the firm will need office furniture.
People are looking for the best office sofa furniture brands in Punjab for getting durable and attractive office furniture for their offices. Consequently, demand is raising.
There are new business setups in every area and industrialization is growing more in Punjab. Therefore, if you will get office sofa franchise from us, revenues will be more for you.
You will be able to represent the top office sofa manufacturer brand in your area.
Alfa Furniture will give you the best franchise rights for running your business smoothly.
You will face less risk and earn more with us.
Your entrepreneurial skills will get enhanced by working with top office sofa dealer company.
Monopoly right enjoyment is the major feature of the franchise business.
Less competition.
Demand for
Office Sofa Franchise Business in Punjab
We know that you must be curious to know about the demand for office sofa in Punjab. Office sofa is that important office furniture which adds value to your office decor. Because whenever people are going to visit your office, it will impress them for sure. Therefore, customers have understood this fact and are demanding for office sofas. The demand for office sofa furniture in Punjab is increasing with the increase in new office setups out there.
Obviously, after seeing the demand for office furniture in Punjab, you can easily judge your profits when you are selling the best office furniture in the area. Therefore, feel free to go for indulging yourself in an office sofa franchise business. But in addition, choose the best office sofa manufacturer company for you. Don't just pick any company. Because this business will only be fruitful when you are selling high-quality office furniture products. And be competent enough on your part also to generate leads for that company.
Why is Alfa Furniture Best for
Office Sofa Distributorship Business Opportunities?
Alfa Furniture excels at manufacturing the best office sofa in Punjab region. Our quality makes our brand to list itself in top office furniture manufacturing companies. Why is it so? Because we are selling the products as we have been asked to manufacture. Customization is another feature of Alfa Furniture. But mostly there is no need of customization because the customers are accepting and loving the product we manufacture. The customer support team is always on their toes to help you out. You will get best office sofa franchise benefits with us and will be able to sell best quality office sofa at reasonable prices.
Here now we will let talk about the availability of office sofa franchise business in the different region of Punjab. The locations where you can apply for the office sofa franchise are
Pathankot.
Gurdaspur.
Hoshiarpur.
Amritsar.
Taran Taran.
Kapurthala.
Jalandhar.
Nawanshahr.
Rupnagar.
Adding some more locations for your convenience, here are some more places for you Firozpur, Moga, Ludhiana, SAS Nagar, Fatehgarh Sahib, Patiala, Sangrur, Barnala, Mansa, Faridkot, Fazilka, Bathinda, and  Muktsar. Therefore, availability is almost in the whole of Punjab, the thing you need is the initiative and interest for getting office sofa franchise.
Contact Details
Name – Alfa Furniture
Address – Punjab
Phone number – 9888405627